By Bob Peters, ChooseCornwall.ca – Job seekers can jump start a career in manufacturing with a new course offering from St. Lawrence College.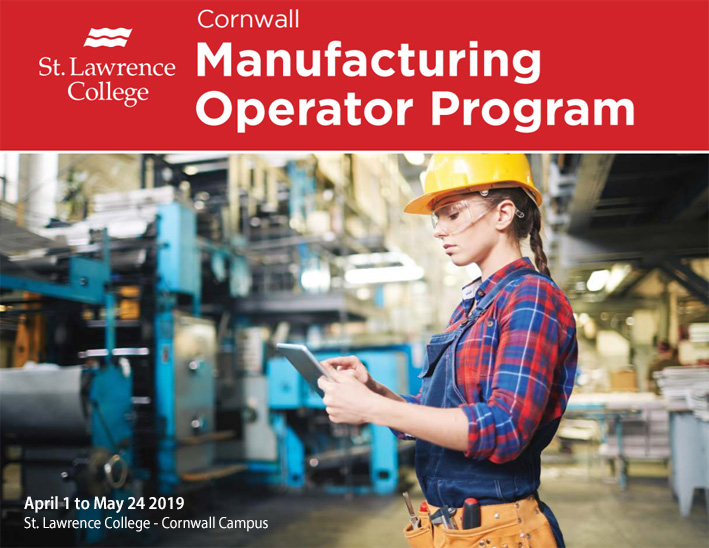 St. Lawrence College is presenting an eight week, Manufacturing Operator Program to help people prepare for employment in the manufacturing sector.
"The objective of the program is to provide people with real-world skills and experience that will lead to permanent employment," says Glenna Schaillee, Manager, Community Outreach and Corporate Learning with St. Lawrence College. "There are a number of manufacturers and supply chain companies currently looking to fill new open positions."
The program runs April 1 to May 24 2019 at the Cornwall Campus of St. Lawrence College.
"There is still room for more students," notes Ms. Schaillee. "People who want to work but feel that they are lacking skills, education or experience are ideal candidates."
This eight-week program will provide you with the skills employers are looking for! You will graduate with well-rounded knowledge in manufacturing process and quality concepts, and the following certifications:
Lockout/Tagout
Working at Heights
Safe Food Handling
First Aid/CPR
Forklift and Safety Training
Upon completion of the in-class Manufacturing Operator Program, students will be placed on a 4 week paid job placement.
Funding may be available through Skills Advance Ontario. To see if you qualify, contact Job Zone d'emploi or GIAG.
Interested students should contact Judy Lowe at St. Lawrence College at 613-933-6080 ext. 3340
About St. Lawrence College
Located along the shores of the St. Lawrence River, St. Lawrence has College has three campuses in Brockville, Cornwall and Kingston. The College boasts 6,500 full-time students from Canada, and more than 40 countries worldwide. The SLC college community includes 20,000 part-time students, 1,000 staff, and more than 70,000 alumni. The college has recently invested in the development of Applied Research and the revitalization of its campuses.
You can find out more information on the St. Lawrence College website: