Posted by: Jenni MacDonald
Explore the Ultimate Snowmobile & ATV Adventure in South Glengarry with Glendaler's Winter Sports Club
Welcome to our new blog series, where Bill and Jenni MacDonald take you on a weekly journey to discover the hidden gems of South Glengarry in Eastern Ontario. Over the course of 21 weeks, we'll share our favourite attractions and activities in the area, all based on our personal experiences. Let's begin exploring the incredible South Glengarry, stretching from the St. Lawrence River to Valleyview Road and from Boundary Road to the Quebec border.
Week 4: Discover the Glendaler's Winter Sports Club
Looking for the ultimate snowmobile and ATV adventure in South Glengarry? Glendaler's Winter Sports Club is the perfect destination for adrenaline junkies and outdoor enthusiasts! With over 200 km of picturesque trails across South and North Glengarry, it's the ideal club to join for those who own a snowmobile or ATV.
Join a community of over 400 families who share your passion for riding and making new friends. The club hosts monthly meetings from early Fall until Spring, as well as annual charitable events, regular group rides, and various trail pass options.
In the 2022/2023 season, the club offered activity days such as Torch Run, Poker Run, and Family Fun Day, to name a few. Competitive riders can also participate in their exciting "Race Day" event!
Operating since 1969, Glendaler's Winter Sports Club helps riders discover the best routes in South Glengarry and promotes safe and responsible riding. The full trails are generally open from mid-December to mid-March.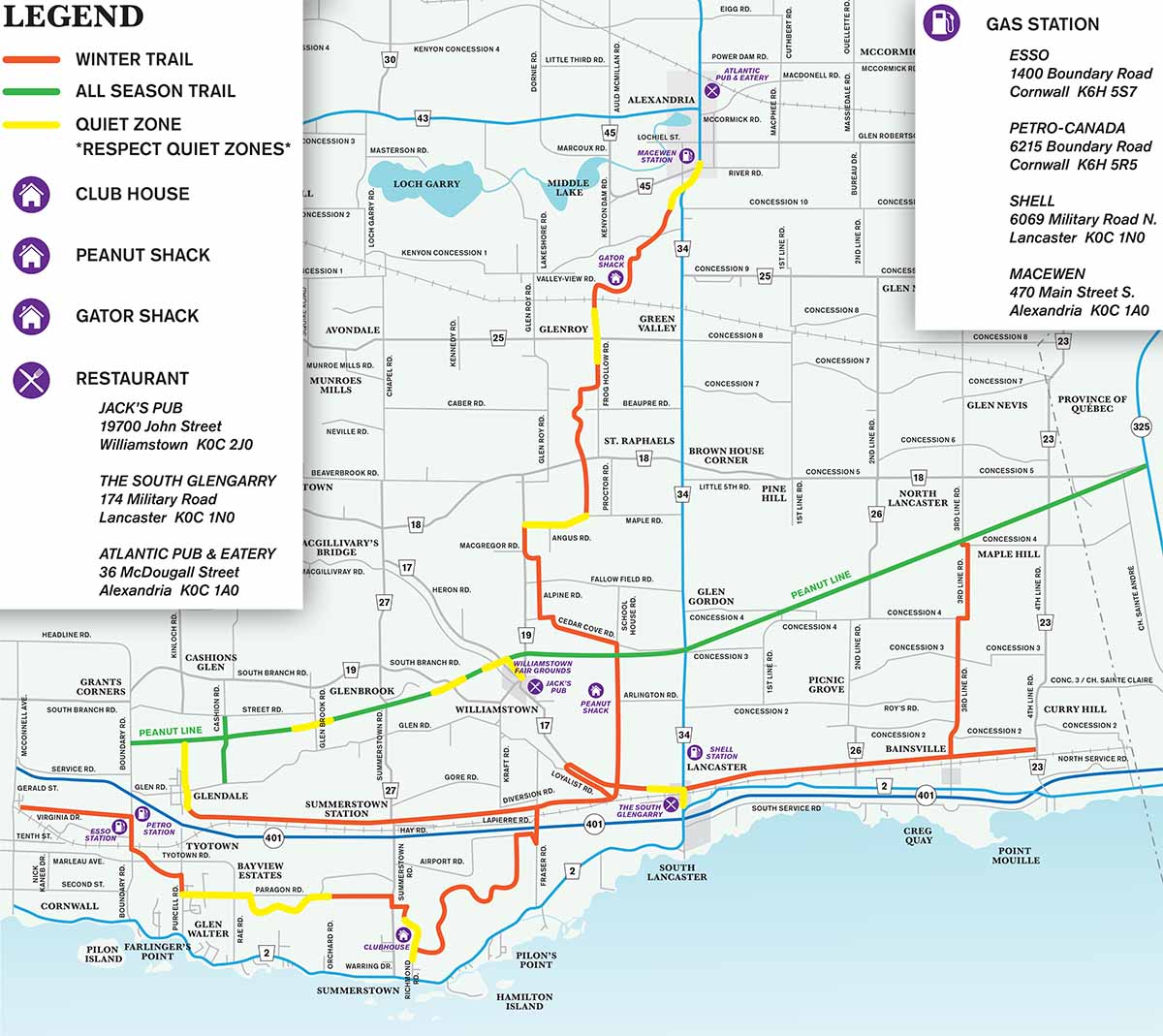 ATV riders can enjoy 50 km of year-round trails along the "Peanut Line," an old C.P. Railway bed that runs from the City of Cornwall to St. Telesphore in Quebec.
The clubhouse, situated near the corner of Airport Road and Fraser Road in South Glengarry, serves as a hub for club activities. Dedicated volunteers groom the trails to ensure they remain safe, comfortable, and, of course, fun!
Stay updated on the latest trail conditions and news by visiting the Glendaler's Winter Sports Club website (glendaleratv.com) and their Facebook page (Glendaler's ATV Club).
Looking for more South Glengarry adventures? Check out these local websites:
Share your favourite South Glengarry moments with us and tell us why you love calling this stunning area "Home." We can't wait to hear from you.
If you're considering a move to South Glengarry, we'd be thrilled to help with your real estate and mortgage needs:
Jenni MacDonald Mortgage Broker – Dominion Lending Centres – The Mortgage Source Welcome – Jenni MacDonald Dominion Lending Centres [email protected]
Bill MacDonald Real Estate Broker/Partner Century21 Shield Realty www.thekiltguy.com [email protected]