Adele Perry, University of Manitoba
Manitoba voters have elected the NDP's Wab Kinew as premier. His election is both a break with recent Manitoba political history and a continuation of the long history of Indigenous involvement in electoral politics in Manitoba.
Kinew is Manitoba's first First Nations premier, though not its first Indigenous leader. That mantle goes to Louis Riel if we consider the legislative assembly of Assiniboia that named the Métis leader president in 1869 to be a legitimate precursor to the province of Manitoba.
A 2019 act that would have named Riel Manitoba's first premier put the matter before the Manitoba legislature, but it never passed.
The title of first Indigenous premier might also go to John Norquay, Manitoba's elected premier from 1878 to 1887. An ally of the federal Conservative party from the mid-1870s onwards, Norquay was born in 1841 the Red River settlement. He spoke French, English, Cree, Annishinaabemowin and Bungee, a dialect associated with Manitoba's Interlake region and its Métis history.
In his new biography of Norquay, historian Gerald Friesen portrays a thoughtful leader who was a loyal kinsman to his relations, and led hunting parties and negotiations with the federal government.
Settler colonial order
Since 1887, Manitoba has been presided over by non-Indigenous people. Apart from outgoing Conservative Premier Heather Stefanson, all of them have been men.
This tells us a great deal about the settler colonial order that unfolded in Manitoba in the wake of the Manitoba Act of 1870 (which included the qualification that women could not vote), the dispersal and dispossession of Métis people, the Indian Act of 1876, the development of a reserve system and the creation of a federal system of Indian residential schools in the middle of the 1880s.
Laws emerged in these years that barred Indigenous people from holding office or voting. They were in force for part of the 19th century and the first half of the 20th century.
In 1886, Manitoba's government disqualified "Indians or persons of Indian blood receiving an annuity from the Crown" from the right to vote or hold office. The vote was not restored to status Indians who received treaty annuities until 1952, some 36 years after Manitoba became the first province to grant women the right to vote on the same terms as men.
It was not until 1981 that Manitoba elected a First Nations member of the provincial legislature, Elijah Harper, in the northern riding of Rupertsland.
Indigenous people who were not excluded by law from voting or holding office — most notably Métis — often discovered that informal barriers, including violence, were an effective check on their participation in electoral politics.
Change in Manitoba
Kinew is Manitoba's first First Nations premier. He is an Annishinaabeg, a citizen of Onigaming First Nation in the Treaty Three region of northwestern Ontario and the son of a residential school survivor.
This represents a significant change, but one that has been in the works for some time. The 2019 provincial election returned the most racially diverse legislative assembly in the province's history, including seven Indigenous members, three Black members and the first openly non-binary member, Uzoma Asagwara.
In government, Kinew will sit alongside seasoned and talented Indigenous legislators, most of them women. This includes Amanda Lathlin (The Pas), Bernadette Smith (Point Douglas) and Nahanni Fontaine.
Fontaine has represented the Winnipeg riding of St. John's since 2016, and most recently served as House leader, critic for families and spokesperson for Missing and Murdered Indigenous Women, Girls, and Two-Spirited People.
The election of Kinew's NDP in 2023 represents a powerful rejection of the racial politics of recent Conservative governments led by Stefanson and her predecessor, Brian Pallister.
Annishinaabeg scholar and journalist Niigaan Sinclair argues that Pallister's views on Indigenous people, who make up about 20 per cent of the province's population, marked the end of his political career in 2021.
The hope that Pallister's replacement would offer a kinder and gentler version of conservative politics never materialized.
The Stefanson campaign's decision to make a platform out of their refusal to support the search of the Prairie Green Landfill for the remains of three First Nations women — Morgan Harris, Marcedes Myran and Mashkode Bizhiki'ikwe, or Buffalo Woman — became a symbol of her government's callous disregard of Indigenous lives.
Timbits and hockey
The 2023 election also represents a return to a social democratic politics familiar to Manitobans.
In a campaign managed by NDP veteran Brian Topp, Manitobans saw a genial, blue-suited Kinew offering Timbits and talking hockey. On the campaign trail, Kinew emphasized his party's commitment to addressing a health-care system in shambles and distanced himself from calls to redirect resources away from the police and incarceration.
The campaign had little to say specifically about what might usually be defined as Indigenous issues. When former NDP premier Gary Doer publicly endorsed Kinew, it signalled a connection between this new government and the one that governed Manitoba from 1999 to 2016.
When Kinew took the microphone at the Orange Shirt Day Survivors Walk and Pow Wow in Winnipeg's downtown hockey arena three days before the election, he was in an orange Blue Bombers shirt. Kinew urged Indigenous people to retain their languages and cultures and prove that the architects of residential schools failed.
Kinew is not Manitoba's first Indigenous premier, but he is the first since 1887. He is the first premier who identifies as Annishinaabeg, whose family history includes residential schools, and whose direct ancestors would have been banned from voting until mid-century.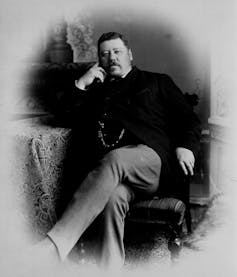 Kinew's election is both a break in history and a continuation of important elements of Manitoba's past. This includes long and complicated histories of Indigenous people in electoral politics and of social democratic provincial governments that have faced serious challenges in addressing poverty and delivering health care.
The high-octane anti-Indigenous racism represented by the Conservative governments of Stefanson and Pallister appears to be no longer sustainable in Manitoba.

Adele Perry, Director, Centre for Human Rights Research and Distinguished Professor, History and Women's and Gender Studies, University of Manitoba
This article is republished from The Conversation under a Creative Commons license. Read the original article.